ABOUT MIKE BEACOM
Mike Beacom is a veteran pro and college football writer – both in print and online – whose work has covered a wide range of topics. Often recognized as one of the Midwest's leading Big Ten football writers, Beacom also has been contracted to provide coverage of the NFL Draft and the Heisman Trophy. His stories have been featured in a number of well-respected publications and Web sites, including Pro Football Weekly, SportsIllustrated.com, Athlon, Lindy's, Football Digest, CSTV.com, Football.com, Inside Wisconsin Sports, CollegeFootballNews.com, The Packers Report, Southeastern Football Saturdays and Beckett.



Learn More About Mike...
Yesterday & Today Ohio State Football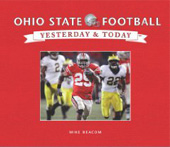 Take a stroll through Buckeye Grove and you're bound to feel the presence of legendary coaches Francis Schmidt and Woody Hayes. Sharpen your vision and you'll see the ghosts of Chic Harley and Les Horvath. Listen close enough and you can hear the racing footsteps of Archie Griffin, or the blaring trumpets of the best damn band in the land. It's all here, in Columbus, where for more than 100 years, Saturday afternoons have belonged to Buckeye football.



Learn More About This Book...
"Mike Beacom gives instant credibility to Inside Wisconsin Sports magazine. I feel extremely confident assigning any story to Mike, whether it be about high school, college or professional sports. He goes above and beyond the expectations we expect and is an integral part of our magazine's success."

Chad Griepentrog
Publisher, Inside Wisconsin Sports

Read More Testimonials...