Yesterday & Today Ohio State Football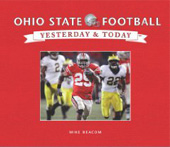 Take a stroll through Buckeye Grove and you're bound to feel the presence of legendary coaches Francis Schmidt and Woody Hayes. Sharpen your vision and you'll see the ghosts of Chic Harley and Les Horvath. Listen close enough and you can hear the racing footsteps of Archie Griffin, or the blaring trumpets of the best damn band in the land. It's all here, in Columbus, where for more than 100 years, Saturday afternoons have belonged to Buckeye football.
"Ohio State Football: Yesterday & Today" captures the finest moments in Buckeye gridiron history in a 144-page book filled with captivating stories and images of players, events and rare Buckeye collectibles. The book is a perfect gift for football lovers, and would be an absolute treasure for any Buckeye fan.
To order a hard-cover copy of the 11" by 10" book, mail a check for $24.95 made payable to 'Mike Beacom' to the following address:
Mike Beacom
P.O. Box 296
Amherst, WI 54406
"Mike Beacom writes a weekly Big Ten football column for us that I look forward to reading every week. He is the man I turn to when I need anything from the Big Ten, whether it is thoughtful column material or breaking news. It's obvious that he has a good working relationship with all the schools and the coaches from that area and that gives him a nice perspective. Mike's Big Ten Report is sometimes a behind the scenes look at the players and coaches and other times he presents a unique perspective on any given situation that is fresh and unique. One thing I can count on for sure, though, is that every column will be not only informative, but entertaining as well."

Ben Cook,
Editor, Lindys

Read More Testimonials...